URECHEAN SAYS MNA WILL COME INTO POWER IN 2009 AND HE WILL BECOME NEXT MOLDOVAN PRESIDENT
27.10.2008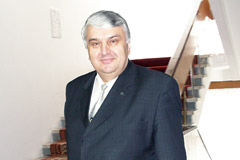 Chisinau. Moldova Noastra Alliance leader MP Serafim Urechean is convinced the MNA will win the state power at the 2009 parliamentary elections, and he will become next President of the Republic of Moldova.

Speaking over the ProTV-Chisinau channel last Sunday night, he stated with pride that the Alliance is "the significant-most opposition formation that has delivered the most painful blows on comrade Voronin", such as e.g. the victory at the 2003 local elections when the MNA won the Chisinau Mayor's post, and good results achieved at the 2007 local elections.

Urechean explained he had to leave the Chisinau Mayor's position and to become a parliamentarian due to the events that followed the 2005 parliamentary elections.

In 2005, he said, the Democratic Moldova voting bloc received 444 thousand ballots, and the Communists – 730 thousand, "and when some of our comrades bent the knee to Voronin, I said to myself I have no right to work only for Chisinau city and must go and work to parliament".

Urechean said that if the MNA fails to poll enough votes to take the state power, then the Alliance will form a coalition with the democratic parties that will come to parliament.

He categorically refuted assertions that the MNA is a pro-Russian or pro-Romanian party, saying, "These are but media speculations. They also say I have links with the mafia all over the world. But if I am able to head the mafia, why not ruling Moldova for a while?" he questioned ironically. "No, the Moldova Noastra Alliance is a national, pro-European party that avoids confrontation with Russia as well as all other countries".