THERE HAS BEEN AND THERE WILL BE NO RESTRICTIONS AND DECISIONS ON FREEZING OF DEPOSIT PAYMENTS – IGOR DODON
07.11.2008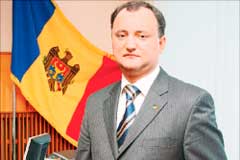 Chisinau. There has been and there will be no restrictions and decisions on the freezing of deposit payments, First Deputy Prime Minister, Minister of Economy and Trade Igor Dodon said at a news conference of the Russian RBK magazine on Thursday.

He said that the development level of the Moldovan banking system is above the CIS average level that is also confirmed by international experts' opinion.

"We have recently received a mission, which assessed the development of the banking sector in various countries and we received the highest mark on their part", the Vice-Premier added.

He underscored the achievements by the NBM and the Moldovan Government in curbing inflation and said that at present Moldova is negotiating the decrease of gas prices in the Gasprom office in Moscow.

"We hope that, taking into consideration the world trend for diminishing prices for energy carriers, the gas prices for Moldovan consumers will be lowered already in the second quarter of 2009", Dodon said.