ADVISER TO PRESIDENT BASESCU FOR GRANTING CITIZENSHIP TO ALL ROMANIANS
10.11.2008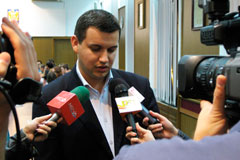 Chisinau. Eugen Tomac, Romanian presidential adviser on ties with the Romanians worldwide, is proposing to grant the Romanian citizenship to all Romanians, including those residing in the Republic of Moldova.

Tomac is running the November 30 parliamentary elections as a candidate from the single-mandate electoral district #2 that includes Moldova, too. He has published electoral pledges on his blog, writing that all Romanians must be given equal access to the labor market; economic growth for Romanians all over the world; European administration for all Romanians; Romanian state institutions to be always by the Romanians' side at any moment.

"Romanians all over the world are my chief occupation, because I was born and raised in Bessarabia, in a populated area very significant for those places. All this made me love democracy more than anything else on earth. I have been promoting human rights and civil freedoms the way I see them yet since the age of 17, when I came to Romania as a Romanian state's scholar", said Eugen Tomac.

Tomac is a graduate from the history department of Bucharest university, a member of the World Romanian Council. The deputy's position from the single-mandate electoral district #2, which includes also Moldova, is being aspired also by prominent Moldovan lawyer Tudor Pantiru and the chairman of the Democratic Forum of the Romanians of Moldova, Literatura şi Arta newspaper editor, writer Nicolae Dabija.