DEMOCRATS AND SOCIAL DEMOCRATS ACCUSING EACH OTHER
18.11.2008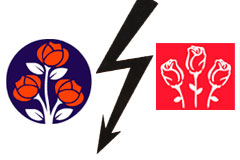 Chisinau. The Democratic Party (DP) and the Social Democratic Party of Moldova (SDPM) keep on accusing each other of upsetting the negotiations on their joint running for parliament in 2009. A new page of their continuing verbal duel was turned on the ProTV-Chisinau channel on Monday night.

Both SDPM leader MP Dumitru Braghis and DP leader MP Dumitru Diacov admitted that with the Social International's assistance, the two parties advanced in their bilateral marathon negotiations. It was agreed in principle that both parties would be standing for parliament on the Democratic Party's ticket, that the joint ticket would be crowned by a SDPM representative, and that the SDPM would receive 6 places among the top 10 positions in the ticket, and the DP – only four.

Braghis said on the ProTV last night that his party had agreed to that formula, but that the Democratic Party had poured out the talks outside the bilateral frame, forcing the SDPM to yield a little under the pressure of the mass media.

Dumitru Diacov confirmed the Democratic Party disagreed to such unfair distribution of representatives in the top ten section. He stated the Democratic Party has 2-3 times more local deputies across Moldova than the SDPM, so it would be only logical to divide the 10 positions at least on equal terms.

Also, Diacov drew attention to one essential circumstance: had Braghis been standing on the DP list and had be renounced his chairmanship of the SDPM, then the party leadership would fall into the hands of the SDPM Secretary General – Eduard Musuc "who is pursuing his own interests and who is currently in an alliance with the Communists", Diacov stressed.

Diacov said that after the 2009 elections, he would prefer to form a ruling coalition with the Right-Centrists. And Braghis said it was premature yet to make any statements in that respect.

Diacov said the Democrats have worthy candidacies for all essential state posts, including candidates for prime minister such as former minister of agriculture Valeriu Bulgari, ex-minister of economy Alexandru Muravschi, and ex-minister of justice Ion Paduraru.

Braghis promised to make public the names of SDPM candidates for key posts in the nearest future.