PREMIER FILAT BELIEVES "THE HISTORY OF THE ROMANIANS" SHOULD RETURN TO SCHOOLS BY ITS ESSENCE, NOT BY TEXTBOOK NAME
03.04.2012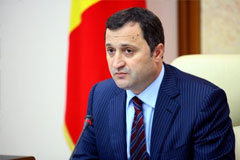 Moldovan Prime Minister Vladimir Filat says it is important to have the history of the Romanians back into Moldovan schools "by its essence and contents, not by the name of textbooks".

The Premier said on the ProTV Chisinau channel that yet in 2009, when he promised that "The History of the Romanians" would be brought back into local schools, "I meant not the subject's name but its content".

He voiced discontent that Minister of Education Mihai Sleahtitchi had ordered to rename the current school discipline of "History" into "The History of the Romanians and The General History", and that that question was not discussed with the Prime Minister.

"Discussions on this topic both in 2011 and this year were and are largely the reflection of the Minister's utter lack of speaking skills. Our schoolchildren are supposed to learn historic truth from their textbooks, not lie", said Vladimir Filat.

Asked to comment the recent statement by the Romanian Ambassador to Moldova, Marius Lazurca – that both the Ungheni-Iasi gas pipeline construction and "The History of the Romanians" are equally important for Romania – the Premier replied he would like to hear how the Moldovan Ambassador in Bucharest perceives Romanian ministers' work.

Infotag's dossier: Starting from September 1, 2012 the school subject "History" shall be renamed into "The History of the Romanians and The General History", as per Minister Mihai Sleahtitchi's order. So far, the world history constitutes 50% of the textbook information volume, the history of the Romanians – 45%. Starting from the next academic year, the proportion will be: 55% will be the Romanian history, 40% – the world history, and only 5% volume – the history of Moldova.