MIKHAIL BERGMAN CALLS ON RUSSIAN AUTHORITIES TO CHECK FORMER TRANSNISTRIAN LEADERS' COMPLICITY IN ARMS TRADE
04.06.2012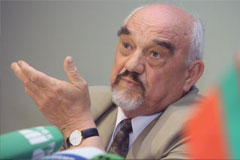 The Investigation Committee of the Russian Federation (SKR) has received a request to check the complicity of former Transnistrian president Igor Smirnov and ex-minister of state security [September 1992 through December 2011] lieutenant general Vladimir Antiufeyev in committing grave crimes, wrote Kommersant, an influential Moscow newspaper.

The request author is the official representative of the incumbent Transnistrian president, former military commandant of Tiraspol city colonel Mikhail Bergman, who has accused Smirnov and Antiufeyev of illicit trade in weapons, kidnapping of persons and major financial machinations.

Bergman wrote in his request that Smirnov and Antiufeyev created in the unrecognized Transnistrian Moldovan Republic a criminal community that had functioned actively last 20 years to earn huge profits from arms deals, blackmail, illicit financial operations, and elimination of those people who dared try to be a hindrance to them.

Bergman wrote that he disposes of reliable evidence of how weapons used to be plundered from Russian military warehouses situated in the region, and that he has documents on arms supplying to Russia and other former Soviet countries, and especially documents on elimination of the people, whom Smirnov and Antiufeyev regarded as their enemies who could upset their illegal activities.

Yevgeny Shevchuk, who defeated at the December 2011 presidential elections two representatives of the Transnistrian governing regime – Smirnov and parliament speaker Anatoly Kaminsky – is now apprehending a revenge, the more so that Transnistria is coming across terrible financial hardships: the deficit of the region's State Budget is 72%. With all this, the Russian Federation is not rushing to remit a new tranche for Transnistria out of the promised US$150 million. Mikhail Bergman is sure this is not just an accidental delay: the money disbursement is being delayed by Russian officials connected with Igor Smirnov.