PRIME MINISTERIAL CANDIDATE MUST BE NOMINATED BY NEXT WEEKEND – LUPU
05.04.2013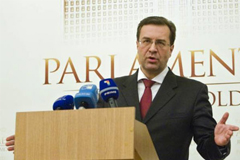 Candidate for prime ministerial post must be nominated by the end of next week, presumes Moldovan Parliament Speaker and Democratic Party leader Marian Lupu.

He was guest of the Publika TV channel of Chisinau on Thursday night and stated that this deadline was agreed upon at the latest round of consultations with President Nicolae Timofti.

"So, we all have time until the end of next week only. If we fail to agree upon a candidate, we'll have no other option except holding an early parliamentary election", said Marian Lupu.

He underlined, "The fact that we do not want elections does not mean we are afraid of them. We are ready for elections. But I'd like to warn: blackmailing like "do what you are told, or there will be elections" shall not work here".

The Parliament Speaker confessed that, regretfully, the negotiation participants are yet far away from creation of a new Alliance for European Integration (AEI-3), and one of the chief reasons to the impasse are the irreconcilable positions of the LP and LDP leaders concerning the candidacy of Vlad Filat for prime minister.

"Both partners should be more flexible. Radical positions only lead to galvanization of general atmosphere, which reduces chances for a final positive outcome. Radicalism only aggravates unhealthy rivalry. And February 13 [when Filat announced his party's quitting the AEI formation agreement] was one of the results of this political rivalry, which has stepped over the red line", said Marian Lupu.

He said that the Democrats may consider Filat's candidacy for prime minister only if he convinces the Democratic Party that February 13 shall never repeat.

In Lupu's words, the Democratic Party shall not support any candidate without being fully sure that the person will receive guaranteed support of the AEI parliamentary majority.