​MOLDOVAN PARLIAMENT APPROVES NEW GOVERNMENT'S LINEUP AND WORK PROGRAM
30 july, 2015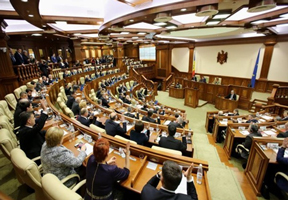 On Thursday evening, the Parliament of Moldova approved the personal composition and work program of a new Government by the votes of 52 MPs representing the three constituent parties of the ruling Alliance for European Integration. The Socialists and Communists voted against the Government, and independent MPs abstained.
The new Government is headed by Prime Minister Valeriu Strelet, who will have 4 Deputy Premiers namely Minister of Foreign Affairs and European Integration Natalia Gherman, Minister of Economy Stephane Christophe Bride, Deputy Prime Minister for Social Issues Gheorghe Brega, and Deputy Prime Minister for Reintegration Affairs Victor Osipov.
Old posts have been preserved by Minister of Finance Anatol Arapu, Minister of Agriculture and Food Industry Ion Sula, Minister of the Interior Oleg Balan, Minister of Culture Monica Babuc, Minister of Informational and Telecommunication Technologies Pavel Filip, and Minister of Regional Development and Construction Vasile Batca.
The Parliament has voted for appointing Ruxanda Glavan as Minister of Health, Mircea Buga – as Minister of Labor, Social Protection and Family, Loretta Handrabura as Minister of Youth and Sports, Vladimir Cebotari as Minister of Justice, Corina Fusu as Minister of Education, Iurie Chirinciuc as Minister of Transport and Road Infrastructure, Valeriu Munteanu as Minister of Environment Protection, and Anatol Salaru as Minister of Defense.
The Government has also two more members – President of the Moldovan Academy of Sciences academician Gheorghe Duca and Bashkan [Governor] of Gagauzia Irina Vlah.
Straight after the voting, the new Government was sworn in, after which they returned to the Parliament's plenary meeting.
The new Government has comprised 6 incumbent parliamentarians, including the Prime Minister and a Deputy Premier. According to the law, they have 30 days at their disposal to choose between the Parliament and Government. But they are not rushing to leave the Parliament immediately because their vacancies will take some time to be filled with new deputies from party waiting lists, whereas their 6 votes are vitally necessary for the parliamentary majority of 52 – at least on Friday, July 31.