​EX-MINISTER MAIA SANDU CREATING POLITICAL PARTY
23 december, 2015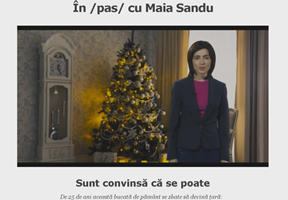 Ex-Minister of Education Maia Sandu has announced that she is creating a political party of her own.
On Wednesday, she wrote in the social networks (and cast also her video address to the public) saying that she is making this step feeling that it is vitally necessary "to save that little what has remained yet after the current political class of Moldova".
"I know that many of you don't feel like making politics, particularly in the present-day conditions when there seems to be no room for honest people in the current power. But we have come to realize that if we don't make a step forward and don't change the current political class, we may lose even that little what has left for us all. I am calling on you to make this step together with me", Sandu addressed to compatriots.
She believes citizens repeat same mistakes by voting for same politicians who make nothing but empty promises.
"They forget us the people who voted for them. For them, a lie has long become a habitual business. The media bought by them are manipulating us and dividing us, forcing citizens to hate one another, while vital problems remain unresolved and forgotten. We need to have other people in the country leadership", wrote and stated Maia Sandu.