​USA IS INTERESTED IN FORMATION OF PRO-EUROPEAN GOVERNMENT IN MOLDOVA – VICTORIA NULAND
19 january, 2016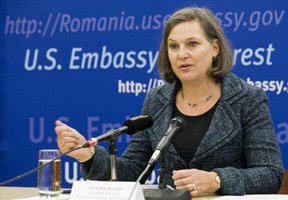 The United States is interested in the formation of a pro-European government in Moldova that would concentrate on realization of reforms and implementation of the EU-Moldova Association Agreement, Assistant Secretary of State for European and Eurasian Affairs Victoria Nuland stated in Bucharest on Monday.
"We firmly support Moldova residents' wish to have strong leaders who can implement the program of reforms. This is the best possibility for ensuring Moldova's future. Romania and the United States have programs for support of Moldova's security, like NATO has, too. But for this, a government is needed, with which we will be working together for realization of these programs", Victoria Nuland said commenting on the situation in Moldova.
Nuland reaffirmed the United States' readiness to render assistance to Moldova upon government formation.
The Assistant Secretary of State said that Moldova has to return to implementation of European-style reforms in the banking, judiciary and financial spheres. The new government must return to negotiations with the International Monetary Fund.
"Today we talked of immediate humanitarian assistance as well as of the need to provide long-term political and economic support, and of cooperation in the energy sphere", said Victoria Nuland.
Infotag's dossier: Some experts and analysts in Moldova believe that the United States has decided to back the new government in apprehension that should an early parliamentary election happen in Moldova, power may go into the hands of political parties standing up for Moldova's integration into the Eurasian Union.