​LITHUANIAN EXPERT RECOMMENDS MOLDOVANS TO GO AWAY FROM THEIR NATIVE COUNTRY AT FIRST POSSIBILITY
19 february, 2016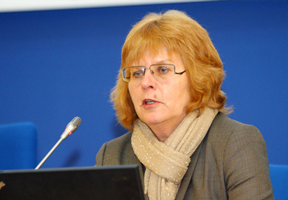 Lithuanian expert Rasa Alisauskene, Director of the sociological company Baltijos tyrimai/Gallup, is advising to citizens of Moldova to emigrate from their native country the sooner the better, if only possibilities permit.
She stated in an interview with EHU Times that Moldova has been in the worst situation and has the most depressive atmosphere of all the former Soviet republics.
"Over the 25 years of researches, which we have been conducting in Moldova, too, I have never seen such a fall of pro-European moods and such a close approaching of the whole society to a line behind which a civil war begins. It seems to me that those citizens of Moldova who can afford packing their things and leaving the country ought to do this immediately", said Rasa Alisauskene.
Explaining the reasons of the current crisis in Moldova, she said that first Russia imposed an embargo on Moldovan agricultural produce and the Moldovan Government failed to find alternative markets, and then followed a loud financial scandal around the stealing of 1 billion euros from Moldovan banks. The theft of the billion triggered a massive protesting.
The expert believes that Moldova has found itself in a "foolish situation" that may only worsen.
"If the country had an early parliamentary election, which the opposition is demanding from the governing pro-Western coalition, my forecast would be as follows: about 75% seats in the Moldovan Parliament would be taken by pro-Russia forces. This will make a constitutional majority", said the expert.
Rasa Alisauskene believes Moldova has missed its chance for integration into Europe, and in the current situation the most realistic scenario for Moldova is: the country is being thrown back from its pro-European orientation – for decades.
In her words, presently the most stable FSU country in the region is Kyrgyzstan, "whereas Moldova is the direct opposite of it".