​CZECHIA READY TO SUPPORT MOLDOVA'S EURO-INTEGRATION REFORMS – AMBASSADOR ZDENEK KREJCI
25 april, 2017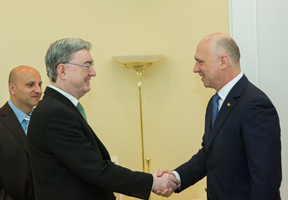 Czechia stands ready to back the reforms aimed at Moldova's integration into Europe, the Ambassador Extraordinary and Plenipotentiary of the Czech Republic to the Republic of Moldova, Zdenek Krejci, stated in his meeting with Moldovan Prime Minister Pavel Filip on Tuesday.
The interlocutors discussed the program of Premier Filip's forthcoming visit to Prague scheduled for May 8-9, reported the governmental press service.
According to it, the parties discussed Moldova-Czechia relations and the perspectives of deepening of bilateral cooperation. Pavel Filip reaffirmed the importance of trade and pragmatic economic cooperation between the two countries in the light of the forthcoming 3rd Meeting of the Moldova-Czechia Inter-Governmental Commission for Trade and Economic Cooperation and of a bilateral business forum, with both events scheduled for September 2017.
Pavel Filip and Zdenek Krejci discussed also the Government's program of reforms in the spheres of public administration and the judiciary. The Premier stressed the importance of optimization and transparency of the reforms, "which we are implementing for the good of our citizens".
Ambassador Zdenek Krejci called the Moldovan people of business to be more active at the Czech market, and emphasized his country's interest to develop business ties with Moldova.
The parties discussed new spheres of bilateral cooperation – the defense sector, investments, territorial planning etc.
The Republic of Moldova and the Czech Republic are marking the 25th anniversary of the establishment of diplomatic relations between the two countries. Over that period, the Czech Development Agency has rendered assistance to Moldova in the spheres of democracy and human rights, social insurance and services, agriculture, forestry, water supply and sewage, environment protection.