PRESIDENT DODON DECORATES 2ND MOTORIZED INFANTRY BRIGADE WITH ORDER
16 octomber, 2017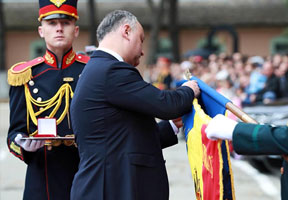 Moldovan President Igor Dodon has handed in the Order of Fidelity to Fatherland, First Class, to the 2nd Stefan cel Mare motorized infantry brigade. Last Saturday, the nation's Commander-in-Chief took part in the decoration ceremony held on the occasion of the Brigade's 25th anniversary.

Dodon wrote on his Facebook page afterwards that the military subdivision, bearing the name of one of the most respected rulers in the country's centuries-long history, is distinguished for its professionalism and fidelity to the country. The President highlighted the personal contribution of the Brigade officers and soldiers in maintaining peace in the Transnistria Security Zone, and wrote that they present a reliable foothold within the framework of the state-importance peacekeeper mission.

"As the country's Supreme Commander-in-Chief, I will spare no effort for supporting the armed forces of the Republic of Moldova. May I inform that recently we prepared and sent to the Parliament for consideration and approval a draft law on returning to providing a Social Package for the military. There also are other initiatives and proposals to be submitted [to the Parliament] for raising the service motivation of the military and for bettering the image of the national army. I am firmly convinced that the national army will be further promoting the consolidation of the Republic of Moldova's statehood and the youth upbringing in the spirit of patriotism", wrote President Igor Dodon.