32-YEAR-OLD FINANCIER BECOMES MOLDOVA'S DEFENSE MINISTER
25 octomber, 2017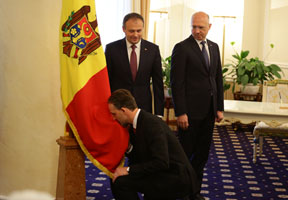 The Moldovan Ministry of Defense will now be headed by a new minister - 32-year-old civilian financier Eugen Sturza. The Decree on his appointment was signed on Tuesday by Parliament Chairperson Andrian Candu - instead of the President of the republic.

The [Presidential] Decree #411 was signed in the Office of President Dodon, though in his absence. The ceremony was attended by Speaker Candu, Prime Minister Pavel Filip, and the ministerial appointee - Eugen Sturza. Candu signed the Decree in the presence of journalists, and the young minister was sworn into office.

Last Friday, the Moldovan Constitutional Court invested the Moldovan Parliament Speaker with a plenary power of appointing ministers of government after President Igor Dodon had twice rejected the Sturza candidacy proposed by the Prime Minister.

Eugen Sturza, 32, graduated from the Finance Faculty of Moldovan Academy of Economic Studies (ASEM) in 2008. He is a Deputy Chairman of the European People's Party of Moldova (EPPM) headed by former Prime Minister Iurie Leanca. Sturza began his political career in 2009 when he became an Adviser to ex-Prime Minister Vlad Filat. When the prime ministerial post went to Iurie Leanca in 2013, the 28-year-old Sturza was appointed Head of the Apparatus of the Government and held the post until 2015. After the resignation of that Government, Eugen Sturza became Director of the Public Administration Reform project in the Institute for European Policies and Reforms (IPRE) in Chisinau.