COMMUNISTS INITIATING VOTE OF NO CONFIDENCE IN CONSTITUTIONAL COURT
02 november, 2017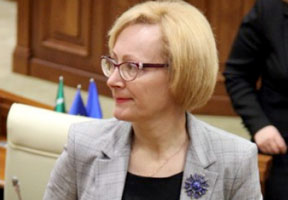 The opposition parliamentary Communist Party (MCP) has announced they are initiating the procedure of voting no confidence in Constitutional Court judges due to their recognition of the Declaration of the Independence of the Republic of Moldova as a document standing above the country's Constitution.

Communist MP Elena Bodnarenco stated to journalists in the Parliament Building on Thursday that the law-stipulated destination and duty of the Constitutional Court is to guarantee the supremacy of the Constitution, to ensure the realization of the principle of division of state power into the legislative, executive and judicial powers, and to guarantee the State's responsibility to citizens and citizens' responsibility to the State.

"However, the Constitutional Court Chairman permits himself more and more often to comment on not only the decisions of constitutional jurisdiction bodies but also on certain political questions, thus violating the very principle of the Constitutional Court's independence and impartiality. For instance, Mr. Chairman expressed his personal position on the economic, political and social situation developing in the country, criticized certain politicians and power branches. The Constitutional Court Judges have demonstrated their absolute disrespect for the Constitution, and the Court has thus become a component of the incumbent ruling alliance", stated MP Bodnarenco.

According to her, the MCP has revealed 13 concrete violations committed by CC judges. One of the grossest of them was their recognition of the supremacy of the Declaration of Independence over the Constitution, which step is ensuring, in a perspective, the possibility to rename the country's official language [from Moldovan into Romanian].

Elena Bodnarenco said that for registering the initiative with the Parliament and thus for putting it on the forum's plenary agenda, the document must be signed by minimum 15 deputies [in the 101-member Parliament of Moldova]. Presently the parliamentary MCP faction consists of only 7 deputies, after their 14 party comrades had stated their divorcing the MCP in December 2015. Shortly after that, all the runaways joined the ruling Democratic Party.

In their Statement, the MCP authors are proposing to express no confidence in the Constitutional Court judges, to launch the procedure of dismissing them, and to urgently amend the procedure of discharging CC judges from their posts.

However, the Constitution stipulates that the Constitutional Court is independent of any other power branch and is subordinate only to the Constitution, whose Article 137 reads that Constitutional Court judges are irremovable throughout their whole term of office, are independent of anybody in the country, and obey only to the Main Law.