ON FRIDAY, CHISINAU AND TIRASPOL CHIEF NEGOTIATORS TO AGREE UPON OPENING GURA BICULUI BRIDGE
03 november, 2017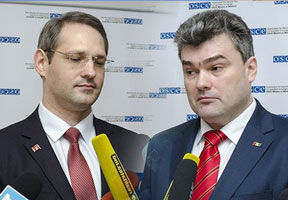 On November 3, the sides' chief negotiators - Moldova's Deputy Prime Minister for Country Reintegration Gheorghe Balan and Transnistrian minister of foreign affairs Vitaly Ignatiev - will agree on and sign the draft Protocol Decision on re-opening the Gura Bicului Bridge across the Dniester River for traffic, the Moldovan Reintegration Bureau has reported.

According to it, Balan and Ignatiev will meet in the Chisinau Office of the OSCE Mission to Moldova on Friday. The meeting will be attended by the representatives of the international mediators and observers taking part in the 5+2 negotiation process. The 5+2 format includes Moldova and Transnistria as the conflict sides, Russia, Ukraine and the OSCE as international mediators (5); and the European Union and the United States as international observers (2).

It is believed that the parties will consider inter alia the question of holding, before the end of November in Vienna, a new round of the 5+2 format negotiations. As was already reported by Infotag, last Monday this question was discussed between Moldovan Prime Minister Pavel Filip and the representatives of 5+2 format participants. And last Wednesday Transnistria president Vadim Krasnoselsky met with Ambassador Michael Scanlan, the Head of the OSCE Mission to Moldova, and stated in particular that the sides have already exchanged their drafts of protocol decisions on opening the bridge, "So presently there are no principal moments that could prevent us from opening this object for traffic".

The bridge across the Dniester between the Moldovan village of Gura Bicului and the Transnistrian village of Bicioc was blasted up during the 1992 Transnistrian armed conflict. The bridge is an essential element of the M-14 highway, which is a part to the 9th Pan-European Transport Corridor. The member countries of the European Union and the Commonwealth of Independent States (CIS) are strongly interested to have the Corridor working efficiently. In the early 2000s, the bridge was repaired with foreign partners' assistance, but the automobile traffic on it has not been resumed until now - through Tiraspol's fault: Tiraspol is conditioning the traffic opening with an official recognition of Transnistrian license plates by Chisinau and with obtaining international guarantees that Chisinau shall never use the bridge for military purposes, though the sides had agreed upon the latter condition yet in 1998.