ONLY PARLIAMENTARY ELECTION CAN CHANGE SITUATION IN MOLDOVA – PRESIDENT DODON
03 november, 2017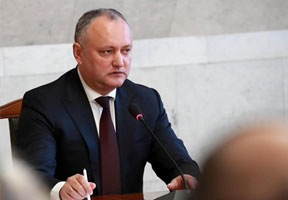 Moldovan President Igor Dodon is convinced that only a parliamentary election will permit to change the current state of things in the country, he wrote on his Facebook page on Friday morning, commenting on the exposures being unfolded in the Moldovan press against Moldova's chief oligarch, the master of the country Vlad Plahotniuc.

"Judging by e.g. the yesterday's fierce television battles broadcast on a local channel with the participation of actors from the criminal world, one thing is becoming obvious: the country needs a parliamentary election, preferably a snap election. Only an election will let us ruin the present-day country governance system, to cardinally change the state of things in order to thus ensure an adequate investigation, an objective and independent judiciary that would let reveal the truth", wrote Igor Dodon.

The president is convinced that one should not expect honest trials or adequate reactions from the incumbent judiciary.

"Efficient investigations will become possible only upon the appearance of a Socialist parliamentary majority", stressed Igor Dodon, who had headed the opposition Party of Socialists for quite long until his election as President of Moldova.

On Thursday evening, the Jurnal TV channel of Chisinau showed an interview with Moldovan killer Vitalie Proca serving a 21-year-long sentence in a Romanian jail. Proca stated that he had slandered Renato Usatii [leader of Our Party (OP) and the Mayor of Balti, the country's second largest city, who has been hiding in Moscow since August 2016 from what he calls "the Plahotniuc justice in Moldova"] on Vlad Plahotniuc's request and stated that Usatii is allegedly the customer of the unhappy attempt to murder Russian refugee banker Gherman Gorbuntsov. In his interview, Vitalie Proca stated also that he had attempted the assassination of Gorbuntsov in London by the order placed by Vlad Plahotniuc, who had misappropriated Moldovan Universalbank shares from Gherman Gorbuntsov. Proca said he was ready to be tested on a lie detector and to hold a face-to-face meeting with Vlad Plahotniuc.

The killer's sensational exposure triggered a stormy reaction in the Moldovan society. Opposition party leaders are demanding from the Prosecutor General's Office to resume the investigation and start a criminal procedure against Vlad Plahotniuc.