CIVIL SOCIETY DEMANDS PGO TO ARREST VLAD PLAHOTNIUC
06 november, 2017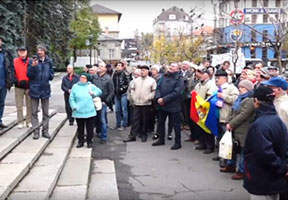 Representative of civil society and a number of oppositional non-parliamentary parties conducted on Saturday a protest action in front of Prosecutor General's Office, demanding arrest of Democratic Party leader, ruling coalition coordinator Vlad Plahotniuc. The rally lasted around one hour and gathered up to 100 people – supporters and members of the Partidul Nostru (OP, Our Party) and the "Demnitate si Adevar" [DA, "Dignity and Justice"] Party.

The leitmotif of their address to the Prosecutor General's Office (PGO) is the thesis that there is a public statement of a person about politician's guilt of ordered crimes and this fact should be obligatorily investigated.

Ex-representative of Moldova in the UN and the Council of Europe Alexei Tulbure said at the rally that after the recent reform of the prosecution, at availability of such a statement, any prosecutor is obliged to start investigation regardless of who the people are.

"If they do not start investigation, do they have a right to work on citizens' money? We need courageous people who will not be afraid of starting an investigation against the main thieves of our country", former diplomat said, calling on prosecutors to cooperation with British detectives, who are also investigating the circumstances of attempted murder of Russian financier Gherman Gorbuntsov.

OP Deputy Chairman Dmitry Ciubasenco admitted that the politician has the right to apply the principle of the presumption of innocence.

"But Plahotniuc is the first who is interested in objective investigation of accusations against him. He has to go to confrontation and undergo lie detector test there. Otherwise, with the accusations that remained without response the democrat has nothing to do in politics", he said.

None of PGO officials came out to protesters

Infotag's dossier: In March 2012, Moldovan citizen Vitalie Proca shot nine times in Russian citizen Gherman Gorbuntsov, who was hiding in Great Britain from former business partners. Most of bullets missed the target, the banker was saved by doctors, while Proca managed to run away from the crime scene. In 2016 he was sentenced to 21 years in Romania for ordered crimes. Gorbuntsov many times stated that the attempted murder is handwork of his ex-business partner Renato Usatii. The latter categorically denies this. On November 2, at a private TV channel Proca said that the loud murder attempt in Great Britain was ordered by DP leader, ruling coalition coordinator Vlad Plahotniuc.