MOLDOVAN DIASPORA IN ITALY ANGRY ABOUT PRESIDENT DODON
06 november, 2017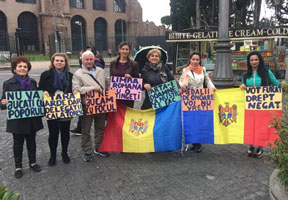 President Igor Dodon has cancelled his meeting with the representatives of the Moldovan diaspora in Italy that was scheduled to be held in Rome last Sunday after a sermon in the St. Catherine Church that was attended by President Igor Dodon and his family.

The labor migrants from Moldova living in Italy met the head of state with protest. Several tens of Moldovans gathered near an Orthodox Church with Moldovan and European Union Flags in hands. They were waving posters reading "Don't play with the people", "Unification [with Romania] is unavoidable", "Father, forgive him, for he knows not what he does", "The country is in fire, but delegations are touring". The protesters were crying out now and again: "We are Romanians!"

On his Facebook page, Igor Dodon did not explain why he had cancelled the scheduled meeting with labor migrants from Moldova. He wrote only that on Sunday he had attended a divine liturgy in the Orthodox Church of St. Catherine that was conducted by the Chancellor of Orthodox Parishes of Italy, Bishop Matthew.

"I expressed gratitude to Reverend Matthew for the spiritual food he gives to the Moldovans staying far from their native land. I sacrificed to the church the icon of 12 Moldovan Saints and informed the clergy and worshippers that the day before, I had requested the leadership of the Holy See to provide extra places for our Orthodox Christian Churches in the territory of Italy".