SOCIALISTS AND LIBERALS SIMPLY APPREHEND LEST SITUATION IN CHISINAU SHOULD IMPROVE AFTER APPOINTMENT OF DEPUTY MAYORS – VLAD PLAHOTNIUC
07 november, 2017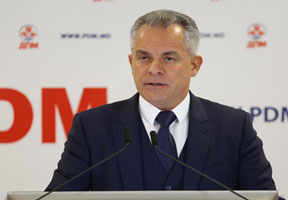 The Party of Socialists (PSRM) and the Liberal Party (LP) are simply afraid that things in Chisinau may start improving now that the problem with the appointment of Deputy Mayors has been resolved, believes Democratic Party leader Vlad Plahotniuc.

On Tuesday, Plahotniuc stated after the DP leadership meeting that the Socialists and Liberals are afraid losing their control over the capital city "that used to bring tremendous benefits to them, causing citizens' tremendous discontent".

"We must admit that the city has been in an awful condition. The media and the civil society have been long signaling about huge corruption flourishing in the Chisinau Primaria [city government]. We should also recognize that relevant responsible agencies were demonstrating their insufficiently serious attitude to such signals. Now time has come to correct the situation", said Vlad Plahotniuc.

In his words, the Socialists' and Liberals' assertions that Plahotniuc has allegedly committed a raider seizure of the Primaria by appointing Deputy Mayors are just groundless.

"I am addressing to Igor Dodon [President of Moldova and former PSRM Chairman] and to Mihai Ghimpu [LP leader]: you have a majority in the Chisinau Municipal Council [city legislature]. So, why were you not appointing the Deputy Mayors for so long? With your majority in the City Council, you can do anything, even to re-dislocate the Primaria to Colonita [village near Chisinau – the native place of Mihai Ghimpu and of his beloved nephew Chisinau Mayor Dorin Chirtoaca currently under a house arrest on charges of corruption and abuse of office] or to Condrita [the picturesque locality on the Dniester River bank, where a countryside presidential residence is situated]", said Plahotniuc, the Moldovan ruling coalition coordinator.

Plahotniuc stated that irrespective of who may come to govern the Chisinau Primaria, the ruling Democratic Party will do all in its forces to put an end to corruption schemes and to implement projects that will bring good to the capital city and its residents.