PREMIER PAVEL FILIP OFF FOR OFFICIAL VISIT TO ISRAEL
08 november, 2017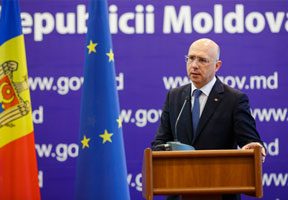 On Wednesday, Moldovan Prime Minister Pavel Filip left for a 3-day official visit to Israel.

The visit program includes Pavel Filip's meetings with Israeli Prime Minister Benjamin Netanyahu, with Knesset [parliament] Deputy Speaker Tali Ploskov, and with Israeli Cabinet members. The parties are going to discuss the current shape of bilateral ties and the perspectives of broadening mutually beneficial cooperation in various fields.

The Moldovan Premier will have meetings also with the representatives of the Moldovan diaspora in Israel and of the Jewish communities of descendants from Moldova. Prime Minister Pavel Filip will open also Moldovan Culture Days in Israel, and will tour Israeli holy places.

The Moldovan governmental delegation accompanying the Premier includes the Deputy Premier, Minister of Foreign Affairs and European Integration Andrei Galbur, Minister of Education, Culture and Sciences Monica Babuc; Minister of Agriculture, Regional Development and Environment Protection, Co-Chairman of the Moldova-Israel Inter-Governmental Commission for Trade and Economic Cooperation Vasile Batca; Minister of the Interior Alexandru Jizdan; and the Republic of Moldova's Ambassador Extraordinary and Plenipotentiary to the State of Israel Gabriela Moraru.

According to the Ministry of Economy, Moldova and Israel have signed 25 major agreements and are currently negotiating the conclusion of 10 more documents. As of July 1, 2017 there are 316 enterprises with Israeli capitals functioning in Moldova that have invested a total of 49.9 million lei in the Moldovan economy.

In January-September 2017, Moldovan exports to Israel marked nearly $2.6 million – down 54.1% against the equivalent period on the previous year, and imports from Israel shrank by 27.4% -- down to $6.7 million.