COORDINATOR VLAD PLAHOTNIUC APPEARS TO BE THE 6TH POPULAR-MOST POLITICIAN IN MOLDOVA - IRI RESEARCH
10 november, 2017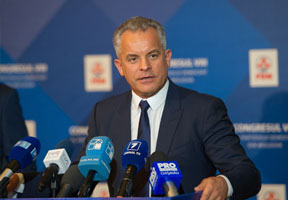 The Chairman of the ruling Democratic Party of Moldova, Vlad Plahotniuc, has improved his popularity rating by two-fold lately, as per the latest one of the researches carried out regularly by the International Republican Institute. According to this research, Plahotniuc's popularity has grown to 4% presently - from 2% as of March 2017.

With such a rating, the country's influential-most politician is now ranking the 6th by his popularity among compatriots, yielding to President Igor Dodon (26%), Party of Action and Solidarity (PAS) Chairperson Maya Sandu (15%), DA Platform leader Andrei Nastase (6%), Prime Minister Pavel Filip (6%), and Party of Socialists Chairperson Zinaida Greceanii (5%).

The poll has revealed falls in the popularity ratings of Igor Dodon - down by 15%, of Maya Sandu - by 8%, and of Andrei Nastase - by 6%. Simultaneously, IRI established a 2% growth of popularity rating with Premier Pavel Filip and 2% with Vlad Plahotniuc.

Had a parliamentary election been held on the nearest Sunday, it would ensure parliamentary mandates to only three political formations - to the Party of Socialists that would poll 34%, the PAS - 23%, and the Democratic Party - 9%.

These figures have been received from that category of citizens who would go to the polls for sure and who have already made up their mind about whom they will vote for. For comparison: as of last March, parliamentary mandates would be won by the Party of Socialists (36%), the PAS (29%) and budget Renato Usatii' Our Party (6%).

According to IRI findings, Communist Party leader Vladimir Voronin currently has a popularity rating of 3%, which is approximately same as with OP Chairman Renato Usatii who has been hiding in Moscow since August 2016 from what he calls "the Plahotniuc justice in Moldova", which has started several criminal litigations against him.

The IRI carried out this research on September 23 through October 17, 2017, having covered 1,514 respondents across the republic. The pollsters are saying the error should not be in the excess of В±2.5%.