"PARTIES' HOUR" PROGRAM TO START COMING OUT ON NOVEMBER 22
10 november, 2017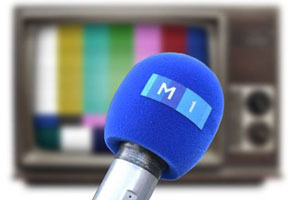 The "Parties' Hour" television program, long promised by the Teleradio-Moldova (TRM) public broadcasting company, will start coming out on November 22, Moldova-1 public television channel director Ecaterina Stratan has announced in response to the reproaches voiced by Party of Action and Solidarity (PAS) Chairperson Maya Sandu who claimed the TRM would not fulfill its promise to let opposition forces have an access to the electronic mass media.

Maya Sandu wrote in the Facebook that since the end of September, she has not received a single offer or invitation from the public company.

"We are stating with regret that the Teleradio-Moldova company reacts only to our open letters published in the press, instead of fulfilling its legal duties stipulated in the Audiovisual Code. We shall continue exerting our legitimate pressing so that to make this public institution function democratically, ensuring pluralism and unbiased informing of the citizenry. We demand to know why, after the first live TV debate organized on Speaker Andrian Candu's request, the TRM decided not to conduct the "Parties' Hour" program anymore and not to invite us to any other television programs. May be the TRM got scared, seeing the incompetence of high power representatives, or may be the company is waiting for new orders from them?" wrote Maya Sandu.

In reply, Ecaterina Stratan reminded that Maya Sandu and other PAS representatives were twice invited to the live TV program "Moldova in Direct".

"It is not at all easy to put a new concept into life with very limited financial means at your disposal. Anyhow, the "Parties' Hour" program will be launched on November 22. And next week, we will invite to Moldova-1 the representatives of various parties to whom we will explain the program's concept and plans and will answer their questions", said Ecaterina Stratan.

As was already reported by Infotag, last September 17 Chisinau saw a massive action of protest against the mixed election system introduction. In the course of that protesting that flooded the TRM building, the demonstrators were demanding an airtime for the opposition in the prime time.