CONSTITUTION AMENDMENT BILL WILL BE REGISTERED WITH PARLIAMENT ALREADY THIS WEEK – SPEAKER
11 december, 2017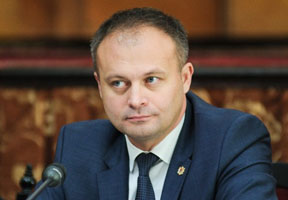 The bill on amending the Constitution will be registered with the Parliament later this week, Parliament Chairman Andrian Candu wrote in the Facebook on Monday.

The Speaker welcomed the Constitutional Court's positive conclusion on the bill, by which the parliamentary majority is trying to fix in the Main Law that European integration is the strategic objective the nation's development.

"The only model permitting to develop the republic quickly and with efficiently is the EU model. The fixing in the Constitution of the Euro-integration goal guarantees a democratic system with equal chances for success for each citizen", wrote Andrian Candu confidently.

According to the law, a bill on amending the Constitution may be considered by the Parliament in not earlier than 6 months and not later than in 12 months since the date of the Constitutional Court's judgment. For adopting the bill, it must be supported by two-thirds of the legislature i.e. by minimum 67-of-101 deputies.


According to legislation in force, the President may refuse to promulgate a law and return it to the Parliament, but only once. If the Parliament votes for a law for a second time, the head of state must promulgate it. But according to the recent innovation by the Constitutional Court, if the President refuses to promulgate a law after a repeated voting, then the Parliament may apply to the Constitutional Court and presidential powers may go over to the Parliament Chairperson, who may sign a Decree instead of the President. That was precisely how the ruling majority appointed recently their representative Eugen Sturza as minister of defense, after his candidacy had been twice declined by President Igor Dodon, the country's Supreme Commander-in-Chief.