PRESIDENT DODON PROMISES TO PREVENT CONSTITUTION AMENDING BY OUTGOING PARLIAMENT
11 december, 2017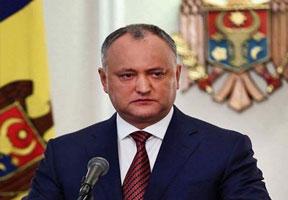 Moldovan President Igor Dodon has stated he will do all in his power to prevent the incumbent Parliament from including the provision on European integration into the Constitution.

Commenting on the Constitutional Court's positive conclusion on amending the Constitution, the head of state wrote on his Facebook page that according to the legislation in force, parliamentary voting on this initiative is possible in not sooner than 6 months from today, and "I shall do all I can to prevent the current outgoing Parliament from approving the constitutional amendment".

Dodon is convinced that the Constitutional Court's conclusion is "an extra proof that this organization stands guard over the interests of the ruling regime, and not of the Constitution".

"The Constitutional Court passed a positive conclusion on including the objective of European integration into the Constitution disregarding Article 5 of the Main Law, "Democracy and Political Pluralism" reading that "No ideology whatever may be established as an official state ideology". European integration is the point of view of the ruling party and it may not be imposed as the official ideology of the state in its Constitution", believes President Dodon.

He further wrote that the Constitutional Court has fully ignored also Article 2 of the Constitution, "Sovereignty and State Power", reading that "not a single individual, or part of the people, or a social group or a political party or any other public organization may execute the state power from their own name. Usurpation of the state power is a grave-most crime against the people".

"In this case, the ruling party is trying to use the state power for the sake of the party's own interests. In such a situation, the most reasonable step would be to hold a nation-wide referendum because only the people of the country have the right to decide upon such essential questions as e.g. the inclusion of European integration as a new constitutional norm", wrote Igor Dodon.

As was already reported by Infotag, on Monday the Moldovan Constitutional Court approved as fully constitutional the legislative initiative of the parliamentary majority to fix in the Constitution the provisions that the European integration of the Republic of Moldova is the strategic objective of the country's development, and that the procedure of the Republic of Moldova's accession to the European Union statutory treaties is established by the Parliament by means of an organic law.