MOLDOVAN PARLIAMENT ACCOMPLISHES ITS AUTUMN-WINTER SESSION ON DECEMBER 22
15 december, 2017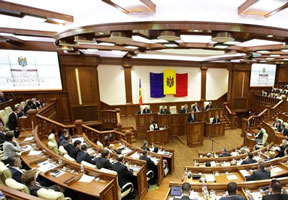 The current Autumn-Winter Session of the Moldovan Parliament will end on December 22, Speaker Andrian Candu stated to the press on Thursday following the working meeting of the Parliament Permanent Bureau.

However, by the Session end the Parliament yet has to consider more than 50 documents, including such big and essential ones as the draft laws on Budgets, draft laws pertaining to the banking and finance system agreed upon with the International Monetary Fund, and other.

"The December 15 plenary agenda includes e.g. the Agreements on providing the macro-financial assistance by the European Union – one for the credit part and the other Agreement for the grant part. In a word, by next Friday the Moldovan lawmakers will be working in a very hard regime", said the Parliament Speaker.

Andrian Candu said also that he will send an address to President Igor Dodon with a request to declare December 16 as a day of national mourning for the death of King Mihai I of Romania.