LIBERALS DEMAND TO ABOLISH RUSSIAN AS LANGUAGE OF INTER-NATION COMMUNICATION IN MOLDOVA
24 january, 2018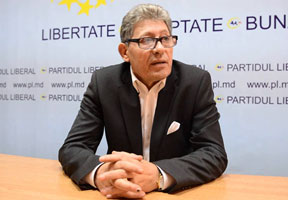 The Liberal Party of Moldova is again demanding to cancel the current legal status of Russian as the language of inter-nation communication in Moldova.

LP Chairman MP Mihai Ghimpu stated at a news conference on Tuesday that the Liberals will shortly address to the Constitutional Court to challenge a number of legal acts fixing the current status of the Russian language in Moldova. Ghimpu reminded that according to the Law on the functioning of languages in the Moldovan Soviet Socialist Republic, adopted yet in 1989, Russian has the status of "the language of inter-nation communication" in Moldova.

"This is unacceptable! In the territory of Moldova, there may be only one language of inter-people communication – the official Romanian language!" stated Mihai Ghimpu.

Ghimpu is convinced that this Law is at odds with the Constitution of the Republic of Moldova stipulating that "the State recognizes and protects the right to saving, development and functioning of the Russian language and other languages", but does not equip them with whatever special legal status.

"That's why the Liberal Party will shortly address to the Constitutional Court with a demand to revise 5 laws that fix the said current status of the Russian language, including the Law on the rights of national minorities, because this question is related directly with the saving the Moldova's cultural and historical legacy", said Ghimpu.

The Liberal stressed that this demand is not aimed against Russian-speaker citizens of Moldova "but is called to promote possibilities for Moldova to live in peace and prosperity according to its own traditions".

Liberal MP Ion Casian stated that the special legal status of the Russian language "contradicts to the constitutional provision on the equality of all citizens of the republic before the law because other national minorities are thus subjected to discrimination as they are forced to communicate in Russian and not in their native languages".

Casian also stated: "The legislation currently in force stipulates the mandatory translation of all legal acts into Russian, which practice costs annually millions of lei to the Budget. This is just an irrational using of public funds, so this situation needs to be changed".

As was already reported by Infotag, last week the Liberal Party stood up with an initiative that the Republic of Moldova should quit the Commonwealth of Independent States (CIS). However, other politicians and experts perceived that initiative as the Liberals' new effort to consolidate and mobilize their electorate in the run-up to the parliamentary election due at the end of 2018.