ROMANIAN PARLIAMENTARIAN MAINTAINS UNIFICATION IS INEVITABLE, "AND NO DODON CAN PREVENT IT"
14 february, 2018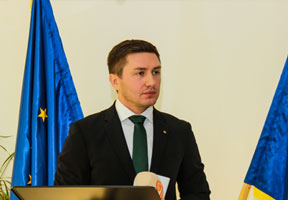 "Moldova's unification [Unirea] with Romania is inevitable, and no Dodon can prevent it", believes Constantin Codreanu, a Member of the Parliament of Romania from the Popular Movement Party.

He wrote in his press release that the first 20 villages in Moldova, by means of their municipal councils, have already voted for Moldova's unification with Romania. "But this is not an end of the story because these will be followed by other villages. On the eve of the 100th anniversary of Moldova's unification with Romania, more and more Bessarabian populated areas will be unambiguously and officially standing up for the republic's return to the Romanian family. Be brave! Don't be afraid! Today we are twenty, but tomorrow we will have hundreds of villages and towns", stated the ardent advocate of unification, who has got into the Romanian Parliament from Moldova.

The ex-Moldovan warned his compatriots that if the central authorities in Chisinau and Bucharest keep dragging out the unification process, then the provincial authorities will act like in 1918 - they will raise the banner of Unirea themselves "because they are closest to those people who suffer hardships and poverty".

"The iron curtain, installed along the Prut River by criminals Hitler and Stalin, has now been replaced with a golden curtain with an inscription "Entrance to the European Union", which is in fact the boundary of the German-Russian accords", believes Codreanu.

He underlined that the Romanian State has a moral obligation not to leave without an attention the Declarations of the mayors and councilors from Moldovan villages. Codreanu invited such mayors to come for a visit to the Romanian Parliament.

Infotag's dossier: Constantin Codreanu, an ardent unionist, was elected to the Parliament of Romania in 2016 on the ticket of the Popular Movement party [Basescu's]. Born and raised in Moldova, Codreanu was one of the leaders of the Civil Platform "Actiunea 2012", uniting a number of Moldovan and Romanian non-governmental organizations supporting the idea of unification [Unirea] of the two countries. Later on, he came to head the National Unity Bloc (BUN) uniting some 30 non-governmental organizations supporting, and working actively for, the Unirea idea. In the Romanian Parliament he represents the interests of the Romanian diaspora in foreign countries.