MAYA SANDU MEETS DEPARTMENT OF STATE DIPLOMATS
14 february, 2018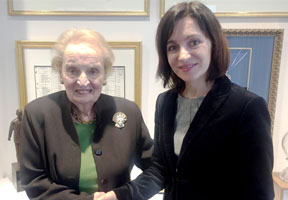 In the course of her visit to the United States, Party of Action and Solidarity (PAS) Chairperson Maya Sandu held meetings with U.S. Deputy Assistant Secretary of State for European and Eurasian Affairs Bridget Brink, with Brock Bierman – the Assistant Administrator for the USAID's Bureau for Europe and Eurasia, and with Madeleine Albright, the US Secretary of State in 1997-2001.

According to the PAS official website, Maya Sandu discussed with Bridget Brink the important-most political and social problems of Moldova.

Sandu offered an opinion that the Republic of Moldova is enduring "a regress of democracy caused by the railroading of the unpopular mixed election system and by the authorities' pressing on political opponents, civil society and regional administration representatives".

Maya Sandu also touched on such acute problems as a high level of corruption, violation of citizens' rights and freedoms, Moldovans' massive emigration to foreign countries, and stressed that Moldova needs to have a responsible government that would be able to put an end to such phenomena.

Brock Bierman of the United States Agency for International Development highlighted the cordial warmth of the Moldovan people, which he felt during his recent visit to the native place of his ancestors – the town of Soroca [the capital of the namesake Raion in northern Moldova]. He assured that the USAID will continue its support for Moldova.

The conversation with Madeleine Albright focused mainly on the role played by women in Moldova's political life. The interlocutors discussed also the obstacles Moldova is coming across in the democracy development process.

The ex-Secretary of State pointed out the importance of the unity of people who believe in the principles of a law-governed state and must oppose to political classes with unhealthy ambitions.

Madeleine Albright voiced hope that Maya Sandu and the PAS will manage to overcome all impediments and will continue their activity for the good of all Moldova citizens.