MOLDOVAN JUSTICE MINISTER ANNOUNCES RESIGNATION FOLLOWING THE PUBLICATION OF HIS TELEPHONE TALK WITH VEACESLAV PLATON
12 march, 2018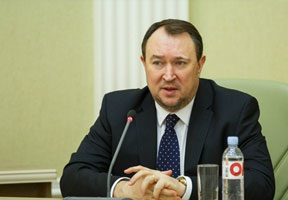 Minister of Justice Alexandru Tanase has announced his resignation after the opposition JurnalTV channel of Chisinau had made public his telephone talk with one of the participants of the ill-famed Landromat money laundering operation - with Moldovan businessman and banker Veaceslav Platon serving a sentence in jail currently.

Tanase wrote on his Facebook page on Sunday that in the nearest days he will tender resignation to Prime Minister Pavel Filip. The minister stated that he has to do this because he has become a target in a blackening campaign, and that he had agreed to become minister not to be substantially used as "a target of attacks with an electoral tinge".

"It is in the spirit of European values to make any public post be based primarily on public trust. But when the trust is doubted, even due to inappropriate reasons, then any initiative, no matter how good it may be, will never lead to a necessary result. In this context, I have come to a conclusion that the best decision in this situation would be to tender resignation as a minister and thus to put an end to my political career", wrote Tanase.

He thanked Premier Filip for his trust and for a joint work for the good of Moldova citizens, and wrote he will submit resignation officially in the nearest time.

Last Friday, the JurnalTV channel made public the record of a telephone talk with former businessman and banker Veaceslav Platon. In that talk, which took place in 2015, it was revealed that the main beneficiary from the scandalous one-billion-dollar bank fraud was almighty oligarch Vlad Plahotniuc. During that telephone conversation, Alexandru Tanase, who was Constitutional Court Chairman then, confirmed the involvement of then-National Bank President Dorin Dragutanu in the bank fraud. Tanase also stated: "In Moldova, like in African countries, laws are not observed".

In the recorded telephone talk, Tanase and Platon are talking very friendly, addressing each other just by small names - simply Sasha and Slava. Shortly after that, Platon was arrested. In the framework of the so-called "operation Landromat", nearly US$22 billion of Russian money was laundered through Platon's banks. In 2017, Veaceslav Platon was jailed for 18 years, and shortly after that he received an extra sentence of 12 years.

Alexandru Tanase was Minister of Justice in 2009-2011, and Constitutional Court Chairman in 2011-2017. In that very period, the Constitutional Court passed a number of very disputable decisions such as e.g. on a return to the direct electing of the President, on prevalence of the Declaration of Independence over the Constitution of the Republic of Moldova (thank to that decision the Romanian language was proclaimed as the republic's official language, and not the Moldovan language as per the Constitution), the decision that the Russian troops in Transnistria are an occupational army violating the constitutional neutrality of the Republic of Moldova.

Upon the expiry of his mandate of the Constitutional Court Chairman in the spring of 2017, Alexandru Tanase returned to his profession of a lawyer, but already on January 10, 2018 he was again appointed minister of justice. This time, however, Alexandru Tanase, 48, has stated he was putting a final end to his political career.

If his resignation is accepted by the Prime Minister, President Igor Dodon will sign a decree on Tanase's dismissal. Some analysts presume that the ruling Democratic Party will propose for the ministerial post the candidacy of Democratic MP Sergiu Sirbu, a former Communist. If the head of state refuses to sign a Presidential Decree on appointing the new minister, the Constitutional Court will have to resort again to the locally invented procedure of suspending the head of state from his duties (for 10-15 minutes) to let the Parliament Speaker or Prime Minister sign an appointment Decree.