GOVERNMENT WILL NOT FINANCE COUNTRY'S ACTIVITY AS EAES OBSERVER - PREMIER FILIP
18 may, 2018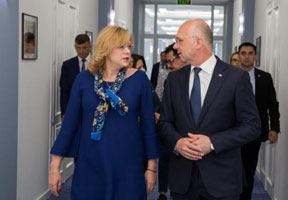 Prime Minister Pavel Filip stated that the Moldovan Government is not going to finance the country's participation in events as Observer in the Eurasian Economic Union [of Russia, Belarus, Kazakhstan, Armenia and Kyrgyzstan, EAES].

At a joint briefing after the meeting with EU Commissioner for Regional Policy Corina Cretu in Chisinau, he said that Moldova is a parliamentary state.

"All the international agreements and treaties that concern the external policy and the country's liabilities before other states should be approved by the Parliament and the Government. Otherwise they are invalid", Filip said.

Commenting on Moldovan President's statements about the fact that the Memorandum of Cooperation with EAES, signed a year ago, provides no need of ratification, the Prime Minister stressed that documents that do not need ratification do not have legal force.

"I officially declare that the Government will not allocate money for financing events, connected with Moldova's observer status in the EAES. The only variant for Moldova's development is its integration in the European Union. This is our country's national priority", Filip stressed.

He also pointed that a year before, when President Igor Dodon requested the status of observer for Moldova, this status did not even exist, it was created after the request.

In her turn, commenting on the granting of the status of observer in the EAES to Moldova, the European Commissioner said that this is the country's internal problem, as its cooperation with the EU is regulated by the Association Agreement.

"It is this document that established Moldova's external policy. One more important document is the Deep and Comprehensive Free Trade Agreement. We expect that Moldova will continue fulfilling its liabilities and the receiving of the observer status in the EAES is an internal problem. The foundation of cooperation between the EU and Moldova is the Association Agreement", she repeated.