EXPERT QUALIFIES FIRST ROUND OF ELECTIONS IN CHISINAU AS DEFEAT OF RULING DP
22 may, 2018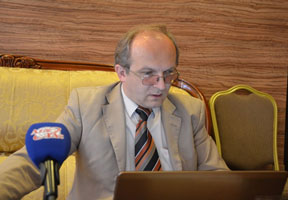 The results of the May 20 first round of early mayoral election in Chisinau can be characterized as a defeat of the ruling Democratic Party, believes political scientist and historian Ruslan Shevchenko.

In his words, over half a year of working in the Chisinau Primaria [city government], Acting Mayor Silvia Radu failed to achieve more or less tangible changes in governing the capital city.

Shevchenko qualified as "a minus" in her political biography her work as Director General of Gas Natural Fenosa in 2008-2015, when she pushed up electricity tariffs several times and somehow managed to prove the need for such price raising before the National Energy Regulatory Agency (ANRE).

"A negative role was played also by the Democratic Party's extreme inconsistency in combating corruption. Having loudly declared its "merciless struggle" against this negative phenomenon, the DP has not unfolded a complex of measures to root it out resolutely", said the expert.

In his opinion, the low popularity rating of the Democratic Party (and particularly of its leader Vlad Plahotniuc, whose name is associated in the minds of most Moldovans with the embezzlement of a billion euros from Moldovan banks several years ago) was efficiently used by the Moldovan opposition, in particular by the DA Platform.

Assessing the perspectives of the second round of the mayoral election in Chisinau, Ruslan Shevchenko offered an opinion that the chances of Socialist Ion Ceban and of opposition politician Andrei Nastase are almost equal.

The expert is convinced that Ceban cannot count on the support of Our Party, Communist Party and of citizens who have got disappointed in the Socialists.

"Nastase's electoral reserve looks larger. He can rely on a part of the Liberal Party's electorate and on Radu's supporters - against a guarantee that Chisinau will be developed into a really European city", believes the political scientist.

Among Nastase's minuses he mentioned insufficient knowledge of city problems and lack of a strategic approach to resolving them.

"According to his own statements, Andrei Nastase wants to become a Member of Parliament after the parliamentary election due at the end of this year. I.e. the mayoral post will again become vacant, but the DA Platform has no second personality so well known to the people as Andrei Nastase. But he will be pardoning all these shortcomings with one chief goal - the need to liquidate the legacy of Vlad Plahotniuc. If he manages to use all this in his favor wisely and expertly, then he will have considerable chances to become a Chisinau Mayor. If not, Socialist Ion Ceban will become Mayor - until the summer of 2019", said the expert.