ION CEBAN FEELS HURT BY HIS ELECTION RIVAL
25 may, 2018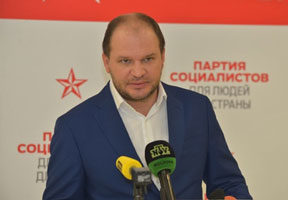 Ion Ceban, the Party of Socialists' candidate for Chisinau Mayor at the June 3 second round of elections, has stated that by naming the [Ceban-invented] open-air debates with citizens and between the two finalists "a street circus", the DA Platform leader Andrei Nastase is just demonstrating his disrespect for citizens, not to mention for his election rival.

On Thursday, again, Ceban came to the Chisinau central square in the hope that Nastase would accept his invitation to come and discuss city problems in the presence of citizens, "but no, Nastase is ignoring such a dialog because he has no program of city development or even ideas concerning this. Look, even his nearest surrounding are not able to say more or less articulately what their leader is going to do should he happen to win the mayoral election".

"Such ignoring of the proposed debates is only proving that Nastase actually does not care about the city, which he regards to be just an instrument for paving a road to the Parliament next autumn", believes Ion Ceban.

He explained to the big crowd of people, who gathered around him, how he is going to solve the problems of the public and other types of transport in the capital, in particular how he is going to handle the contract signed with Parkleitsystem Company by the previous city administration.

"According to that contract, the city must invest about a billion lei in the building of a network of paid-for parking lots. When fully ready, the parking lots must go under the jurisdiction of the said foreign company with a fairly dubious reputation, and Chisinau will be receiving only 10% of the income. Such conditions cannot be called acceptable", stated Ion Ceban.

He believes it is very strange that those gentlemen who participated in this "definite machination" - Chisinau Deputy Mayor Nistor Grozavu and Igor Gamretchi, Director of the Chisinau Municipal Public Transport and Communications Department, are at large, and that their ex-boss -- former Chisinau Mayor Dorin Chirtoaca - is calling Chisinau citizens to vote for Andrei Nastase.