SEVERAL PROTESTS AT ONCE HELD IN CHISINAU MAIN SQUARE ON SUNDAY
26 august, 2018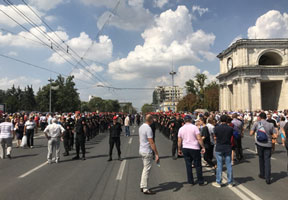 On Sunday, several protest actions at once are being held in the Great National Assembly Square in the Moldovan capital city. The preparations for these started back on Saturday.

Besides the protest, appointed for August 26 by the National Resistance Movement back two months ago, recently, permits on conducting two more protests in the Chisinau main square were issued to public organization "Salvgardare" and an initiative group that achieves the lowering of fuel prices.

Since morning, activists who stand for price lowering installed a stage with banners: "Lower the fuel prices!" and "Down with predatory prices!".

At the same time, the public organization "Salvgardare" is holding a protest together with the Shor Party. Entrepreneur Ilan Shor, sentenced to 7.5 years for involvement in stealing a billion of dollars from the country banking system, organized the transportation of people to Chisinau from Orhei and other Moldovan localities. They intend to conduct an entertainment to disrupt the protest of right-wing opposition. The Shor supporters installed acoustic system in the square, as well as braziers for frying meat, boxes with firewood and food. Since morning, groups of pensioners had the possibility to sit at the benches, installed here, they got free food and water, many of them holding packages with Shor Party symbols. Also, about two dozens of tents have been installed in the center of the square.

Before, the police of Moldova warned the organizers of protests about possible provocations during actions, planned for August 26-27. The police also installed its tents before the Government building, the entrance of which overlooks the city main square. Last night, a temporary fence was installed in the perimeter of the building. Enforced police teams are on duty in the Chisinau downtown, while on the adjacent streets buses with fully equipped police officers are parked. The traffic in Chisinau central streets has been suspended.

As Infotag has already reported, the right-wing opposition, which established the National Resistance Movement, appointed a massive protest action for August 26 back in June. Oppositionists intend to demand the recognition of results of the Chisinau mayor election, where Andrei Nastase won on June 3. In late July, the court cancelled the results of elections. Protest organizers also will be demanding Government dismissal and canceling the Parliament's decision on moving to mixed election system.

This week, protest organizers called their supporters to come in the Chisinau central square on Sunday, August 26, at 14:00. They recommended to take tents, water and food to stay in the square at night and continue the protest on August 27 – the Independence Day.

In order to avoid a great number of participants at the protest, the Moldovan Government declared nine days as days-off – since August 24 through September 3. Officially this is due to the national holidays – the Independence Day on August 27 and the Limba Noastra [Our Language] Holiday on August 31.