MP TUDOR DELIU ELECTED AS LDPM CHAIRMAN
10 september, 2018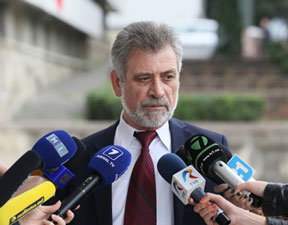 MP Tudor Deliu was elected as new Chairman of the Liberal Democratic Party of Moldova at the extraordinary LDPM congress held in Chisinau last Sunday.

Deliu has been Member of the Moldovan Parliament since 2010, and last 3 years he has been heading the LDPM faction in the forum. Also he reads lectures in the Academy of Public Governance.

The previous party leader, ex-Minister of Defense Viorel Cibotaru, officially announced his resignation at the congress yesterday. He was elected to this post in early 2016 following the arrest of his predecessor Vlad Filat, a former Prime Minister of Moldova. After that, the organization was abandoned by many prominent personalities, including Members of Parliament. As a result, the 23-member LDPM faction, elected at the November 30, 2014 elections, has shrunk to merely 5 deputies. All the rest moved over to the parliamentary faction of the ruling Democratic Party.

It was said at the Sunday congress that the deputies' transition to another parliamentary faction was the result of political corruption, and that the political life in the country has degraded, and now it is dominated by corruption, selfish personal interests and treachery.

The congress adopted a Resolution saying that Moldova is nowadays suffering "the most diabolic political regime in its history - a regime characterized by power usurpation by a small group of Democratic Party members inclined to dictatorship and terror".

In the congress' opinion, this handful of people is seeking to preserve power at whatever price by ignoring the rules of political competition and the people's opinion. For an example, the Resolution mentioned the imposition of the mixed election system upon the nation and a complete ignoring of the Constitution and the principles of the division of powers in the country.

"In the perspective of the 2019 parliamentary elections, the LDPM represents a choice that gives chances for a revival, modernization and moral rehabilitation. The LDPM is to rehabilitate the notions of democracy and personal freedom. The Party presents a new vision of Moldova's development, and undertakes to fully implement the Association Agreement with the European Union as the only possible variant for receiving the status of a candidate country for accession to the European Union", said the Resolution.

According to the resolution, "The Liberal Democratic Party agrees with the perspective of Moldova's unification with Romania as a natural expression of the ideals of its members", and "the Republic of Moldova's future can be guaranteed only within the European Union, where the centuries-long strivings of the Romanian nation will come true".

The Resolution also reads that the LDPM is counting on a broad coalition in the European family of nations together with partners from the Party of Action and Solidarity (PAS) and the DA Platform.