MIHAI GHIMPU TRADITIONALLY BLAMES MOSCOW FOR ALL MOLDOVA'S MISFORTUNES
12 september, 2018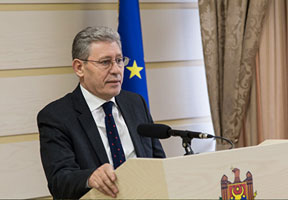 Like before, the main danger for Moldova is "the hand of Moscow", maintains MP Mihai Ghimpu, Chairman of the strongly pro-Romania Liberal Party of Moldova.

On Tuesday, Ghimpu convoked a news conference on the occasion of the LP's 25th anniversary and stated: "Moscow is conducting and directing the chaos reigning in Moldova. Russia is disinterested in Moldova's development, in our movement forward. Look how much money Moscow invests in Igor Dodon! Russia is simply waiting for a suitable moment to occupy our country!"

"Over the 25 years of our existence, the Liberal Party has achieved much, though our main dream - unification with Romania - has not come true. But all the speculations about the Liberal Party's de-facto inexistence are but lies. The Liberal Party is an effective systemic organism continuing its energetic activities", emphasized its unchangeable leader.

Ghimpu's beloved nephew Dorin Chirtoaca, the First Deputy Chairman of the Liberal Party and the former Mayor of Chisinau, reaffirmed his conviction that "Moldova's only chance for survival and prosperity is through unification with Romania".

"This is only how it is possible to tear the republic out of the paws of poverty and spare it of the marasmus of the incumbent ruling regime. The current authorities, acting on the principle of "the rich become richer while the poor become yet poorer", will eventually bring this country to a bankruptcy. The later the Moldovan society comes to realize this, the harder will be a transition to democracy and prosperity", stated the ex-Mayor of Chisinau.

Commenting on a possibility of forming an alliance of the Liberal Party, the Party of Action and Solidarity (PAS) and the DA Platform, Mihai Ghimpu remarked that "actually, these two are not unionist parties [unionists are adherents to the idea of Unirea - Moldova's unification with Romania], but the LP is ready to sit at the negotiating table with them to discuss possibilities of joint struggle against the regime because for the Liberal Party the main objective now is to spare Moldova of the incumbent authorities".