CONSTITUTIONAL AMENDMENT ON EUROPEAN INTEGRATION WILL MAKE MOLDOVA'S COURSE FOR EU IRREVERSIBLE - SPEAKER CANDU
15 octomber, 2018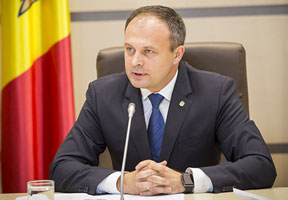 The introduction into the Moldovan Constitution of the amendment on the country's course for European integration will make this course irreversible, believes Moldovan Parliament Chairman Andrian Candu.

Speaking on a local television channel this past weekend, Candu stated: "This constitutional amendment may not be restricted with whatever conditions".

"The new provision in the Constitution will guarantee Moldova's movement towards the European Union. If we had had such a clause in the Main Law, then any law not corresponding to the European vector would be announced as non-constitutional", stated Andrian Candu.

He explained that if the constitutional amendment fails to be approved this week, then there will be no time enough to return to it for a second time with the incumbent Parliament.

"If we vote for the amendment next week or later, the President will decline it and will return the bill to the Parliament. But we will already be short for time to approve it repeatedly. In such case, the entire procedure will have to be started from the very beginning - to receive the Constitutional Court's conclusion again etc." said Andrian Candu.