PUN SUPPORTERS PROTEST BEFORE SUPREME COURT
24 octomber, 2018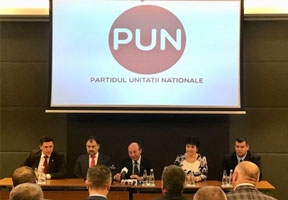 About 10-12 activists and supporters of the pro-Romania unionist National Unity Party (PUN), whose Honorable Chairman is ex-President of Romania Traian Basescu, picketed the Moldovan Supreme Court building on Wednesday. They unfolded a banner reading "Justice for Traian Basescu".

An activist said to journalists that the Supreme Court must consider the former Romanian President's inquiry on returning his Moldovan citizenship to him.

"Igor Dodon's Presidential Decree on citizenship revocation from Mr. Basescu was absolutely unlawful", maintained the picketers.

In May 2018, the Chisinau Appeals Court [second-instance] declined Basescu's claim on restoring his Moldovan citizenship, having supported the judgment made by the first-instance court, which deprived Traian Basescu of the Moldovan citizenship because at applying for it Basescu had concealed his being under a criminal prosecution at that moment.

Despite that circumstance, then-President Nicolae Timofti, a lawyer by his life-long occupation, granted the Moldovan citizenship to Basescu in November 2016.