CEC REJECTS ACUM'S COMPLAINTS AGAINST DP AND PSRM
22 january, 2019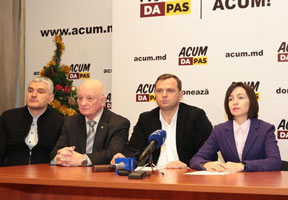 The Moldovan Central Election Commission has declined the complaints filed by the voting bloc ACUM against the ruling Democratic Party and the Party of Socialists.

In particular, the opposition bloc expressed indignation over the fact that on January 13 many Chisinau citizens found in their mailboxes bright leaflets with New Year congratulations from the DP leader and Edelweiss charitable foundation head Vlad Plahotniuc.

ACUM wrote in its complaint that according to the Election Code, all expenditures for an election campaign are covered from organizations' election funds. But the Democratic Party, already registered as an election participant, did not mention in its financial statements any expenditure for the printing and distribution of the many thousands of the said leaflets.

In their defense, the Democrats stated that there exist no proofs that the leaflets were distributed on January 13. In their words, the congratulations were sent yet on December 28, i.e. before the day when the Democratic Party was registered as an election participant (January 2). Besides this, the leaflets were distributed against the contract signed between Edelweiss and the Posta Moldovei state enterprise [national postal authority] without the Democratic Party's participation.

The CEC declined the opposition's complaint on the ground of lack of evidence, and Commission Chairwoman Alina Rusu said that the dispute was related to the activities of a charitable foundation, not of an election runner. She stressed, however, that charitable organizations must observe the law that prohibits them to go in for politics.

As concerns the Party of Socialists, the ACUM bloc referred to the large-size billboards, which can be seen everywhere in Chisinau, featuring the picture of President Igor Dodon and his quotation: "Our time is coming".

The Right opposition bloc wrote in their complaint that although Igor Dodon is not a PSRM member de-jure, de-facto he is remaining the party's leader, participating regularly in PSRM Council meetings and constantly stating his support for the organization. The opposition remarked also that the above-mentioned quotation is the official slogan of the PSRM newspaper.

"Also, the PSRM has violated the electoral legislation by not mentioning billboard manufacturing expenditures in its financial statements", wrote the bloc.

The Socialists parried the accusations, saying that from the legal point of view, Igor Dodon has no linkage with the Party of Socialists. As for the using of similar slogans, "this cannot be imputed to an election participant".

They demanded from the CEC to decline the ACUM complaint, which the Commission exactly did - on the grounds that in this particular case the President's actions had no relation to the PSRM activities.