SOCIALISTS PROMISE TO STOP "THE SOCIAL GENOCIDE COMMITTED BY AUTHORITIES"
15 february, 2019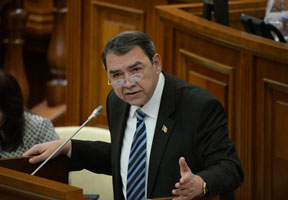 In case of winning a victory in the forthcoming parliamentary election, the Party of Socialists (PSRM) "is firmly intending to put an end to the social genocide being perpetrated by the incumbent Democratic authorities of Moldova", PSRM candidate for parliament Vladimir Golovatiuc, D. Econ., stated at a news conference on Thursday.

The prominent Moldovan economist said that despite the Government-proclaimed reforms, the stratification of the Moldovan society is continuing and is only gaining momentum, along with the notorious trend when "the rich become richer, while the poor - poorer".

"The Filip Government is trumpeting about its raising of salaries by 30%, on the average. When we speak of an average growth, we should bear in mind that last 3 years the proportion of citizens with highest salaries in the general employment structure has increased by 2.5-fold. This has led to a situation when 8% of such well-paid citizens are earning an aggregate salary equal to than earned by 60% of the rest population", said MP Vladimir Golovatiuc.

In his words, the pays of 70% citizens are below the country's average level, and these moderate-income citizens work in essential-most spheres - agriculture, education, public health.

"But even this salary growth is devoured by uncontrolled inflation. In this sphere, our authorities seem to have a complete mess. Look, in December 2017 the rate of inflation was reported at 7.3%, in December 2018 - already 0.9%. and in January 2019 - 2.2%. The National Bank is forecasting a considerable inflation surge in the 3rd and 4th quarter of the year, so prices will soar", said the economist.

Dr. Golovatiuc pointed out "an extremely unfavorable situation in the pension insurance sphere: in Moldova, there is only one worker per a pensioner, whereas for the normal functioning of a pension system it is necessary to have minimum 3 workers per one pensioner. Due to this extremely unfavorable trend, last 10 years the Budget transfers to the Pension Fund have increased 10-fold - from 900 million lei in 2008 up to 8.5 billion lei in 2018".