CEC PRESENTS FINAL PARLIAMENTARY ELECTION RESULTS
04 march, 2019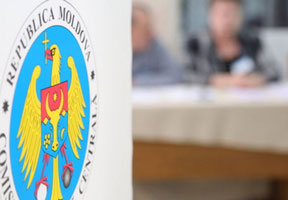 The Central Election Commission has officially presented the final results of the February 24 parliamentary election. The Commission finalized the results and the entire election work at its working meeting held on Sunday, and on Monday the results are to be submitted to the Constitutional Court for approval.

According to the final results, as far as voting by party tickets is concerned, the Party of Socialists (PSRM) is standing on the 1st place in the nation-wide electoral constituency with 31.15% ballots that have ensured the PSRM 18 mandates in the 101-member Parliament of Moldova.

Following next is the pro-European voting bloc ACUM with 26.84% ballots and with 14 mandates.

The 3rd is the Democratic Party of Moldova with 23.62% ballots, which has received 13 mandates. And the 4th one is the Ilan Shor Party – 23.62% and 5 mandates.

The rest eleven parties have failed to overcome the 6% election threshold, with their gains ranging between 0.07% (the Popular Will party) and 3.75% (the Communist Party), so they will not be represented in the new Parliament.

In single-member constituencies, the Socialists and Democrats have won 17 parliamentary mandates each. So, on the whole in the nation-wide constituency plus in single-member constituencies the Party of Socialists has received 35 mandates (18+17), the Democratic Party – 30 (13+17), ACUM – 26 (14+12), Ilan Shor – 7 (5+2). The new Parliament will have also 3 independent deputies, two of whom were elected in constituencies for voters from the Transnistrian region.

The February 24 election was attended by 1,453,013 voters or 49.22% total registered number of citizens eligible to vote. This is the lowest voter turnout indicator in all the Republic of Moldova independence years.

According to the law, within maximum 5 days the Constitutional Court must make its judgment on whether the election was held in harmony with the legislation or not and, accordingly, to approve deputies' mandates or not. Within the same timeframe, judiciary instances must accomplish their examination of all disputes, protests, claims etc. submitted by election contestants.

According to the law, the first plenary meeting of the new Parliament must take place within 30 days since the election date. Earlier, President Igor Dodon offered a supposition that he might sign a Presidential Decree on convening the Parliament's first plenary meeting on March 26-27.