​EU WILL BE FOLLOWING GOVERNMENT FORMATION PROCESS IN MOLDOVA - FEDERICA MOGHERINI
19 march, 2019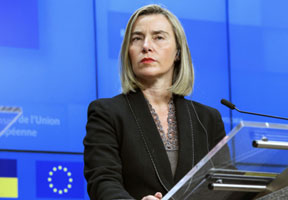 The European Union will be closely following the Government formation process in Moldova and the approval of the Cabinet's work program, Federica Mogherini, High Representative for Foreign Affairs and Security Policy/Vice-President of the European Commission, stated after the meeting of the European Union Council of Foreign Ministers held in Brussels on Monday.
Federica Mogherini said that in the course of the discussion, its participants considered and assessed the current situation in Moldova and reaffirmed their preparedness to back the republic in its reform process and in realization of Moldova's democratic perspectives.

"But we also outlined a number of moments causing our concern, and indeed agreed to continue our following closely the developments in Moldova - the formation of a new government and approval of its work program. I should emphasize here that the result of the coalition formation discussion depends not on us. But we will continue following meticulously how Moldova abides by the principle of the supremacy of law and, of course, the further realization of the Association Agreement agenda", said Federica Mogherini.

She stressed that Moldova is the European Union's key partner in the Eastern Partnership framework, whose 10th anniversary will be marked in May.