SOCIALISTS ESTABLISH PARLIAMENTARY FACTION OF 35
20 march, 2019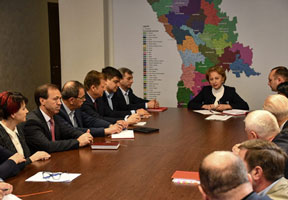 The Party of Socialists (PSRM) has officially formed a parliamentary faction of its own that has included all the 35 deputies elected to the legislative forum at the February 24 poll.

On Tuesday, PSRM Chairperson Zinaida Greceanii conducted the faction's first working meeting and handed in parliamentary mandates to each of the deputies.

The new lawmakers elected leadership of the faction namely Chairperson Zinaida Greceanii, Deputy Chair Corneliu Furculita and Faction Secretary Vasile Bolea.

The PSRM faction stated they are ready for holding the first plenary meeting of the just elected new Parliament of Moldova.