DP INTENDS TO START MAJORITY FORMATION NEXT WEEK
22 march, 2019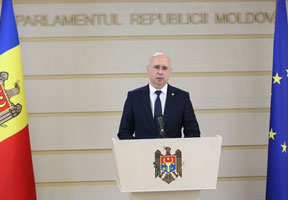 The parliamentary Democratic faction is intending to begin forming a parliamentary majority in earnest next week, incumbent Prime Minister Pavel Filip stated at a news conference on Thursday following the forum's first plenary meeting.

Premier Filip is a Deputy Chairman of the Democratic Party. He was elected Member of the Moldovan Parliament at the February 24 polls. And today, Democratic MPs elected him as Head of the parliamentary DP faction.

Filip remarked that the new Parliament is not quite functional yet because its governing bodies, without which it is impossible to pass laws, are yet to be shaped.

"But first of all, it is necessary to form a parliamentary majority. However, to our great regret, the forum's first plenary meeting was too short today. A pause was announced, during which we have to hold negotiations on majority formation", said Pavel Filip.

He reminded that the DP had invited ACUM leaders for the talks, and "had the talks taken place, our today's plenary meeting could well be more effective".

"I am convinced that the pause will be used efficiently. We will hold energetic discussions with parliamentary factions and independent deputies so as to shape a majority already next week. I don't really think that in case of a snap election, the composition of the Moldovan Parliament will cardinally change. That's why I guess that those people who are standing categorically against negotiations and against coalition formation are simply mocking at citizens and don't care about useless State Budget expenditures. Citizens have already voted, so our duty is to start majority discussions in order not to disappoint the voters", said the DP Deputy Chairman.

Asked what post, Parliament Speaker's or Prime Minister's, presents a greater interest for Democrats, Pavel Filip replied it is too early yet to speak of this, but at any rate such matters should be handled primarily from the positions of pragmatism and not personal or party preferences.