PRESIDENT DODON CALLS ACUM TO FORM COALITION GOVERNMENT WITH SOCIALISTS
02 may, 2019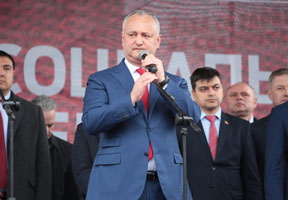 Moldova President Igor Dodon has called on the Right-wing pro-European parties from the voting bloc ACUM to form a coalition government with the Party of Socialists (PSRM).

Dodon made that call at the May Day rally organized by the PSRM in the Chisinau central square. According to the organizers, it was attended by several thousand people. Igor Dodon took the floor at the rally as the Party's informal leader.

"So far, not all the citizens' problems have been resolved. But we the Socialists know how to settle them. We have a serious human potential – professionals who can govern the country and solve the nation's mounting problems. We have many a time managed with hard problems. Our big Socialist family now has the largest faction in the Moldovan Parliament. The Socialists are holding the presidential post. Now it is necessary to wisely handle all this in the Moldovan people's interests", said Igor Dodon.

He reminded that the Parliament's largest Socialist faction had proposed the Right parties to form a parliamentary majority and a coalition government, "but, regretfully, our calls have not been heard by the Right politicians until now".

"Unfortunately, the Right forces have not reached their political maturity yet for creating a coalition government, as politicians did it e.g. in Germany where the Right got united with the Left and formed a strong government. Our Right forces are not that mature yet. They have one more month at their disposal. But I doubt very much that they will be able to rise to the level of political responsibility and put their ambitions aside", stated the President.

Dodon called on the Right parties to pluck up their entire courage and to "make this necessary step like the Socialists did".

"We have nothing to share. All of us are citizens of Moldova, and all of us want peace and stability. It's high time we put an end to geopolitical wars. Certainly, the Russian Federation is our strategic partner. But I wage a well-balanced policy, for we have to live in peace with everybody – with Russia and Europe, but proceeding from our national interests. That's only how we can make our citizens' life better, and that's only how we will be respected both in the West and the East. I am convinced the Moldovan people deserve this", stated President Dodon.

But if a coalition government fails to be formed by the incumbent new Parliament, then, he said, the Socialists will go for an early parliamentary election, "and we shall win it, I am sure!"

According to the law, if parliamentarians fail to form a parliamentary majority and to appoint a new government within 3 months since the first plenary meeting of the new Parliament, the President has the right to dissolve such parliament and announce the date of an early parliamentary election. This deadline expires on June 21.