DA PLATFORM LEADER IS CONVINCED DP, PSRM AND SHOR PARTY HAVE ALREADY FORMED THEIR COVERT COALITION
22 may, 2019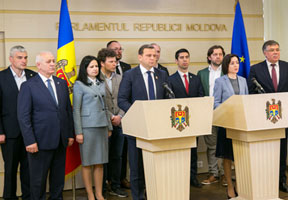 The DA Platform party leader Andrei Nastase, an ACUM Co-Chairperson, stated at the news conference in the Parliament Building on Tuesday he is sure that there already exists a covert coalition – a parliamentary majority formed by the Democratic Party, the Party of Socialists and Ilan Shor Party.

"This coalition is already working against the interests of the State and citizens, and the responsibility for blocking the Parliament's work is on nobody but this coalition", stated Andrei Nastase.

"They must pluck up their courage and publicly recognize the coalition existence. They must assume responsibility for the current social and economic crisis in the country, for the galloping prices on fuels and foodstuffs. They must say that in the absence of external funding the Government is forced to borrow money from banks, so the state debt is steadily growing", demanded the opposition politician.

Nastase stressed that in the conditions of a paralyzed parliament and paralyzed government fully controlled by the mafia, decisions on the nation's future must be taken by free citizens.

"One of the main reasons why the regime is blockading the Parliament's work is its ardent striving for preventing the law-stipulated ordinary local elections, particularly in Chisinau. I guess time has come for the Moldovan people to start preparing for massive actions of protest to be aimed against those who are torturing the country", stated Nastase, whose victory in the last year's Chisinau mayoral election was invalidated by the regime.

Commenting on the appeal to the National Tax Inspectorate, lodged recently by Democratic MP Sergiu Sirbu, who demanded to publish information on the taxes paid by all ACUM deputies over last 10 years, Nastase stated: "I have nothing to conceal. I am an honest man, and I have always been open to such checks. I am ready for any inspections by our Plahotniuc-controlled state institutions and controlling organs".