PSRM CHAIR ZINAIDA GRECEANII ELECTED MOLDOVAN PARLIAMENT SPEAKER
08 june, 2019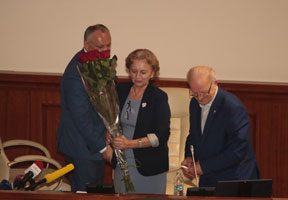 MP Zinaida Greceanii, Chairperson of the Party of Socialists, has been elected Speaker of the 101-member Parliament of Moldova at the forum's plenary meeting being held on Saturday. She was the only candidate nominated for this key post in the parliamentary Republic of Moldova.

The necessary quorum for the today's session was formed thanks to the Socialist faction and the two factions forming the political bloc ACUM – the Party of Action and Solidarity (PAS) and the DA Platform party. So, the plenary meeting was attended by 61 MPs – in the absence of the Democratic faction, the Ilan Shor Party faction and 3 independents. Greceanii received 56 ballots because four ACUM deputies refused to take part in the process, as they stated yet a few days ago, plus one parliamentarian voted against Greceanii.

In her welcome address, Zinaida Greceanii stated that all the present deputies showed themselves as genuine patriots, who have subdued their fear and showed readiness to work for citizens and fulfill election pledges.

"We must put an end to the history of our captured state and of usurpation of power in Moldova. We serve to the Moldovan people, and bear responsibility for their future. Today, political colors do not matter, there are no red or white politicians, no pro-Eastern or pro-Western forces – we all are united in our determination for working for the country. Moldova does have a future!' stated Zinaida Greceanii.

She thanked the foreign ambassadors and all those who cared to come to take part in the parliament plenary meeting, as well as those who could not come but are conveying words of support to the deputies.

On Saturday, the Parliament voted for appointing 4 deputy speakers. One such post was reserved for the opposition camp in the person of the Democratic Party and the Ilan Shor Party. And the rest three elected were: Socialist MP Ion Ceban, PAS MP Mihai Popsoi, and DA MP Alexandru Slusari.

Also, the session has approved the personal composition of the Parliament Permanent Bureau of 15 members, including opposition representatives. The Parliament also began forming its governing bodies, including parliamentary standing committees.