PRESIDENT DODON STANDS FOR HANDLING TRANSNISTRIA SETTLEMENT WITHOUT HASTE
19 june, 2019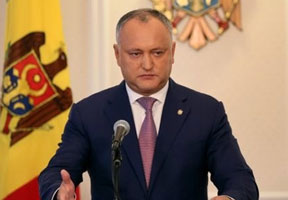 Moldova President Igor Dodon believes that the Transnistrian conflict should be settled carefully and without haste.
He said in an interview with Radio Free Europe: "We should not hurry with definition of a special legal status for Transnistria. This issue is too important for us, so we must tackle it carefully, consistently and without mistakes. There are several very important things. We should not let worsen the situation that has settled, and should fulfill the accords reached heretofore. I mean the license plates [for Transnistrian motor vehicles] etc. approved with foreign assistance within the 5+2 negotiating format".

Igor Dodon stressed that the 5+2 format negotiations must be continued to achieve solutions.

"First we have to achieve a consensus in Chisinau, work out decisions and discuss them with Tiraspol. Then we should enlist our foreign partners' support. There shall be no federalization, and no Kozak Memorandum-1 or Kozak-2, or USA-1 or USA-2! A solution must be worked out and proposed by us, and only after that it should be agreed upon with foreign partners. Deputy Premier Vasile Sova is a high professional, who knows how to manage the conflict settlement situation. He is the best specialist on Transnistrian conflict settlement", stated the President.

Dodon underlined that it is necessary to tackle also economic problems. He reminded that Transnistria exports to the EU market a greater part of its production, "but Tiraspol must fulfill the obligations it has taken, including e.g. to change its tax system, introduce the VAT and meet some other requirements".

"Let's look into all those shady schemes of smuggling, energy and so forth, and Chisinau shall be further defending its resolute stance on all this. I am sure Premier Sandu will agree with my position. We must clarify everything here", stated President Dodon.

He stressed that absolutely everything in Transnistria is controlled by the almighty Sheriff Holding, "which felt very comfortably and calmly while its partner in Chisinau [Plahotniuc] controlled full power in Moldova".

"Now there is no such partner! So, there will be no partnership with Sheriff, and no more criminal schemes. They must be cut short forever and must be replaced with other, legal schemes of interaction", stressed President Dodon.