COMMISSIONER HAHN CALLS EU-RF-USA COMPROMISE ON MOLDOVA "A UNIQUE PHENOMENON IN WORLD POLITICS"
20 june, 2019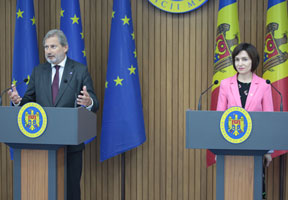 Commissioner for European Neighborhood Policy and Enlargement Negotiations Johannes Hahn has called the compromise-like stance on Moldova, achieved by the European Union, the Russian Federation and the United States, "a unique phenomenon in the world politics".
Speaking at the joint news conference he gave together with Moldovan Prime Minister Maya Sandu in Chisinau on Wednesday, Johannes Hahn said that the three sides, despite a very complicated political situation in the world, have firmly decided to find common interests.

"The sides have arrived at a conclusion that they want to see Moldova a stable and developing country and a source of peaceful environment in the region. Nevertheless, the formation of the governing coalition [of the Party of Socialists and ACUM bloc] was a sovereign decision made by Moldovan political forces themselves. I should underline that the European Union has never made steps here aimed against anybody concretely. We are glad that a new government was formed here, and we are ready to provide necessary help to it", said the European Commissioner.

Hahn reminded he had visited Chisinau last on June 3 so as to see how things were developing here.

"Russia and the United States are interested in having more stability in Moldova. The European Union is also ready to render assistance in this question. We have supported the local political parties' independent decision to form a governing coalition", said Johannes Hahn.

Speaking about the sincerity of the PSRM-ACUM coalition, the Commissioner said that political coalitions are formed not for recreation but for joint work.

"The parties decided to make a coalition, and they did it. They had formed a functional government. Trust is an absolute necessity in such kind of cooperation, and the sides must work together without whatever back thoughts", said Johannes Hahn.

He voiced satisfaction that the Moldovan politicians managed to reach an agreement in such a short period of time, and that the transition of power was peaceful.

"I do hope it was an expression of the politicians' maturity. We stand ready to help Moldova, to delegate international experts to help carry out reforms, and to restart external funding within a shortest-possible time", said Johannes Hahn.

The EU Commissioner visited Moldova last on June 3. On the same day, Chisinau welcomed also Russian Deputy Prime Minister Dmitry Kozak, President Vladimir Putin's Special Representative for the development of trade and economic relations with the Republic of Moldova and Bradley A. Freden, Director of the Eastern European Affairs Office at the U.S. Department of State, responsible for relations with Ukraine, Moldova, and Belarus. Exactly after their visits the ACUM bloc and the Party of Socialists agreed to considerable compromises, formed a parliamentary majority and appointed a new Government.