VLAD PLAHOTNIUC WILL SOON RETURN TO MOLDOVA – ADRIAN CANDU
20 june, 2019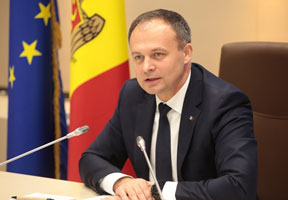 Deputy Chairman of the Democratic Party Andrian Candu said on television on Wednesday that leader of the DP Vlad Plahotniuc will come back to Moldova soon.

However, he did not disclose the exact time – within a week, a month or several years.

"All these are manipulations. He will come back after he ensures security to his family. He had not vanished, the vanishing implies anonymity and absence of any contacts. DP members communicate with PLahotniuc very often and on Monday he published a message in which he says he wants to spend some time with his family. He is not hiding, the work continues, there is intensive communication. Vlad Plahotniuc has nothing to hide, he is now engaged in family issues and security of his family, as well as his own", Candu said.

At the same time, he refused to tell in which country Vlad Plahotniuc is now, but refuted the statements that he departed to the US, though the press was writing that DP leader's family is living in Miami currently.

"Mr. Plahotniuc is not in the US, I met him in Europe. I will not disclose his location, he wants to ensure security to his family. Recently, there were many threats expresed against his family and him personally. Especially many threats came last year and closer to elections. Threats were coming from Russia, directly or indirectly. We were conducting policy of ensuring country security, Russians, of course have no regard for us and even perceive us as opponents", Candu said.

According to him, roughly a year ago, an attempt of kidnapping Vlad Plahotniuc was made abroad.

"Let us not go into details. It is clear this was an operation of special services of one of countries", said ex-Speaker of the Moldovan Parliament.

Answering to journalists' questions, he said that Plahotniuc is absent from parliament sittings for a good cause and he must not be punished for this.

"Financial penalties are provided for ungrounded absence from parliamentary sittings. However, he will explain his absences", Candu concluded.